CASE STUDY
Discover Australian Certified Organic Products
Find out about the Martin Vialatte® range of Australian Certified Organic winemaking products, including Yeasts, Fining, Nutrients and Tannins.
The products listed represent products approved by ACO Certification Limited for use in Organic Wine making, however approval of all Wine products must still go through the normal Approval Process to gain ACO Certification.
Contact Tim tim@grapeworks.com.au , our oenological specialist for more information or to arrange a trial of these products or call 03 9555 5500.
Find out more about these or other plant based products by Martin Vialatte, download the Technical leaflet.
YEASTS
Vialatte Ferm® W12
Yeast for the elaboration of elegant and round wines. Code: LEVUR0041
Vialatte Ferm® W28
Yeast for the production of aromatic white and rosé wines. Code: LEVUR0042
Vialatte Ferm® R71
Yeast for the elaboration of fresh and aromatic red and rosé wines. Code: LEVUR0038
Vialatte Ferm® R82
Yeast for the elaboration of complex and fruity red wines made from ripe grape varieties. Code: LEVUR0039
Vialatte Ferm® R96
Yeast for the elaboration of fresh red wines with fruity and spicy aromas. Code: LEVUR0040
SO. Delight®
Yeast for the production of aromatic white and rosé wines. Code: LEVUR0011
SO. Flavour®
Yeast for the production of intense, complex and fruity red wines. Code: LEVUR0008
SO. Fruity
Yeast for the elaboration of fresh and fruity red wines. Code: LEVUR0012
SP7®
Yeast for the production of high quality sparkling wines. Code: LEVUR0005
YEAST PRODUCT
Open Pure
OPEN PURE is a preparation exclusively made up of purified mannoproteins from Saccharomyces cereviase yeast. Open Pure enhances volume and length in the mouth as well as aromatic intensity, without altering the wine profile. Code: OPENP0000
FINING
ProVGreen® Pure Must
Pea proteins selected for the clarification and oxidation treatment of must. Code: PROVG0010
ProVGreen® Pure Wine
Pea proteins selected for the fining and refining of wines. Code: PROVG0012
ProVGreen® L100
Pea proteins in solution for the clarification of musts
and wine. Code: PVLLG0000
KTS FLOT®
Specific combination of non-allergenic fining agents of plant origin for optimum flotation of musts. Code: KTSFL0000
TANNINS
Similoak®
A unique blend that develops a sensation of sweetness and aromatic complexity in red wines – used to replace the use of oak chips/shavings at the crusher. Code: SIMIL0002
Taniraisin
Grape Skin Tannin to stabilise anthocyanins and enhance aromatic sharpness and intensity. Refreshes aromas and improves balance in the mouth. Code: TANIR0000
Tanipepin
Grape seed tannins in granular form for the clarification, stabilization and balance of red and rosé wines. Code: TANIP0000
NUTRIENT
Nutricell® AA
Organic nutritional supplement, rich in amino acids, for high quality alcoholic fermentations. Code: NUTRI0001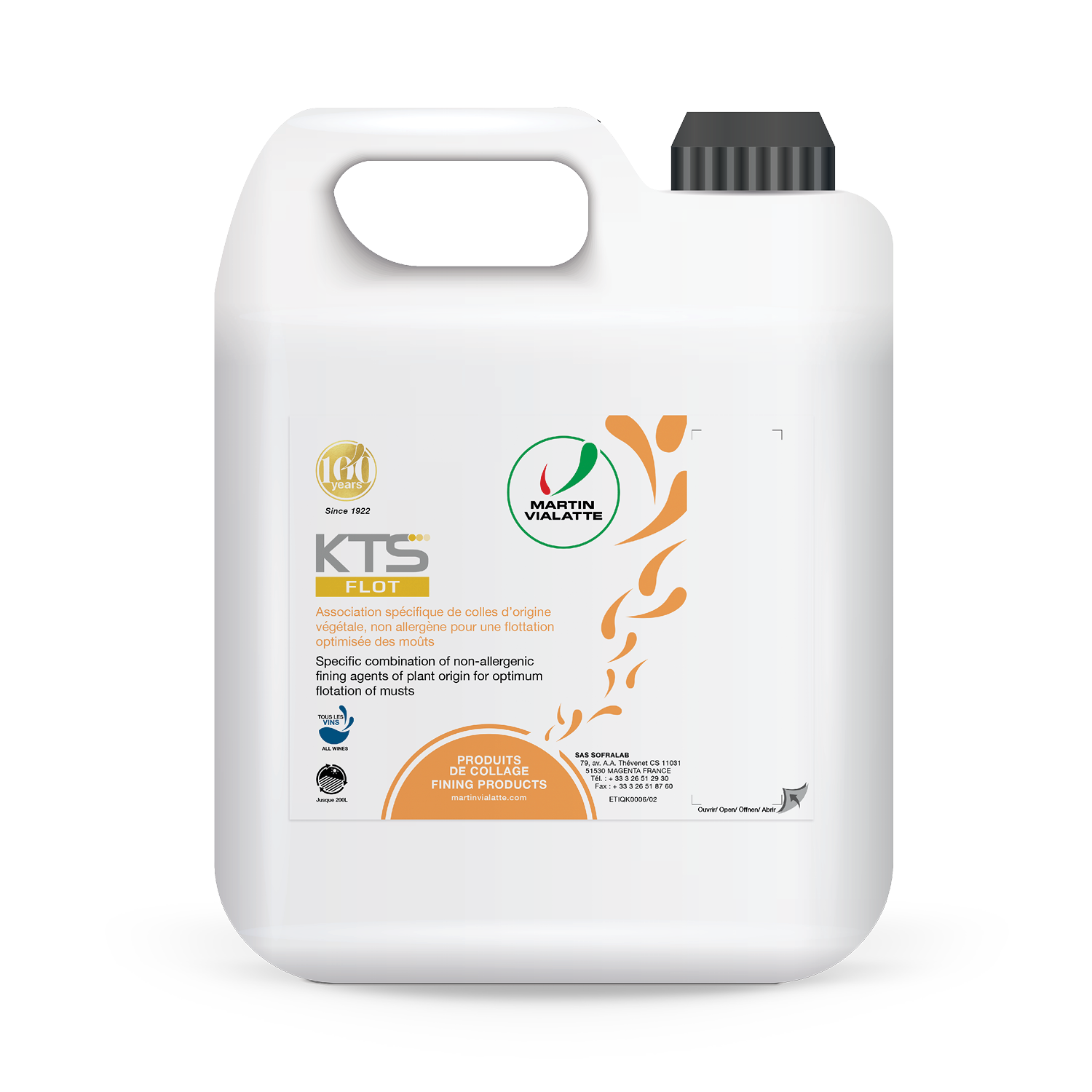 KTS Flot
KTS® FLOT is a next-generation product for the flotation of whites, rosés and reds resulting from thermovinification. It is composed of proteins and plant polysaccharides.
KTS® FLOT ensures fast, thorough clarification of musts with improved compaction of the cap. It also helps to protect against oxidation and refines the must before alcoholic fermentation.
.
SP7®
A yeast that originates in the vineyards of Champagne-Ardenne. Saccharomyces cerevisiae galactose – (fomerly bayanus) is selected for its fermentation characteristics and organoleptic qualities that are required when producing sparkling wines of the highest quality.
Good fermentation performance under difficult conditions (low pH, low turbidity, high pressure). Enables the production of wines that offer great aromatic finesse with perfect gustative balance.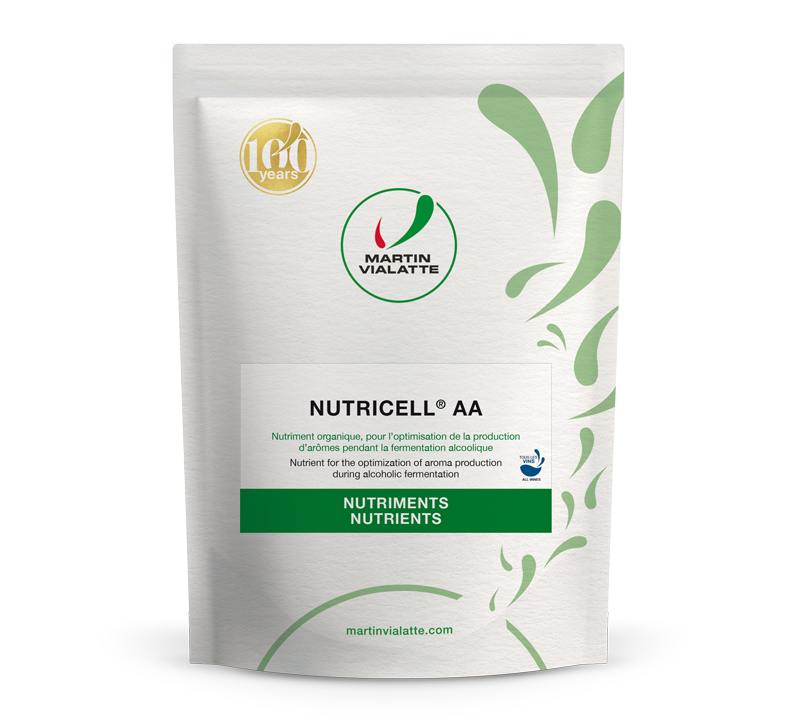 Nutricell AA
NUTRICELL® AA is a nutrient made up exclusively from specific yeast derivatives rich in amino acids.
NUTRICELL® AA enables good alcoholic fermentation management and optimizes the aromatic profile of wine by promoting the production of superior esters and superior alcohol acetates (derived from breakdown of amino acids) along with revealing thiols during alcoholic fermentation.