INSTALLATION – SOUTH AUSTRALIA
Europress EP2 65
Due to extra growth over the season, this Barossa Valley winery decided it was time to increase their pressing capacity and choose the EP2 Closed press 65 with a static whole bunch hopper.
Our Tanium Technical Services team were there to manage the install and training with the client, just in time for the crush happening the following day.

Europress by Scharfenberger. Known for its reliability, build quality and simplicity of operation and cleaning, Europress is the press winemakers turn to.
INSTALLATION
The decision to purchase a Scharfenberger Europress was made based on knowing of the Scharfenberger reputation of excellence, the ease of operating, maintenance and cleaning. Plus other winemakers in the region had provided their positive feedback of being a Europress owner.
The advantage for the winery is this will half their total press time, saving time and money.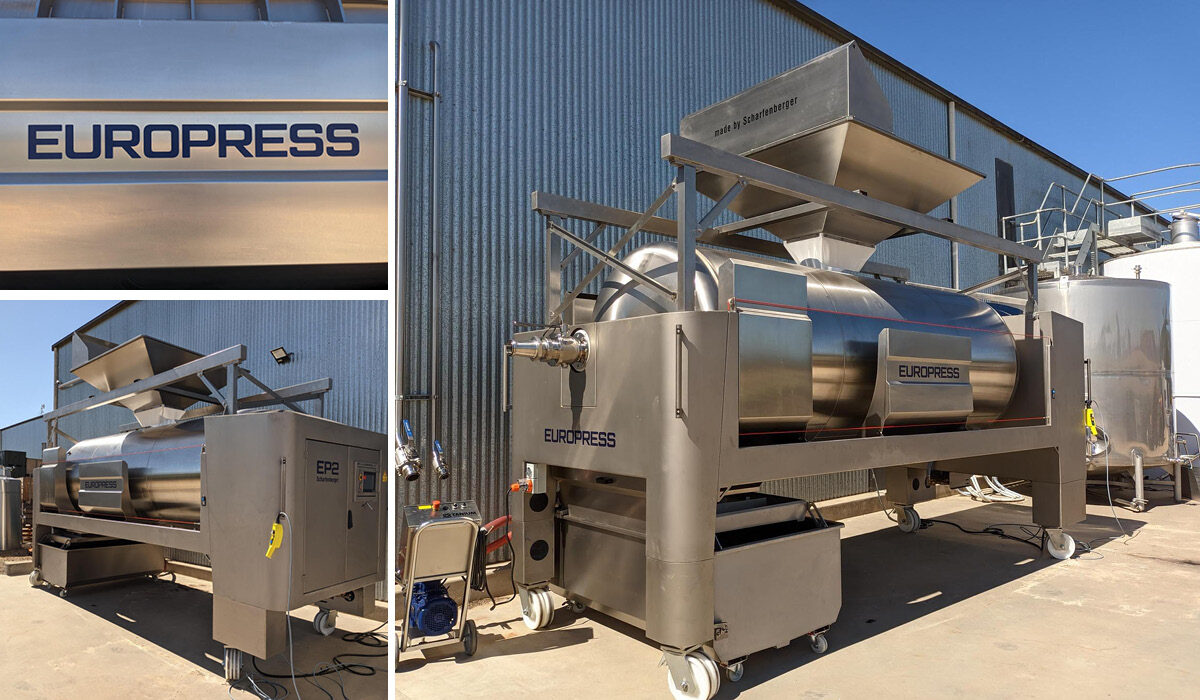 The EP2 65
In a closed press system, the press drum has hinged and removable juice channels on the inside with very narrow slots. The juice flows directly into the juice pan through the outlets. It is perfectly suited for skin contact and maceration. Cleaning is made easy through the quick release juice screen fasteners.
Standard Features:
All stainless steel design including frame
Press drum equipped with removable juice channels on the inside
with very narrow slots
Polished press drum for easy cleaning
Internal compressed air supply with high-performance compressor
High volume vacuum pump with double function: pre-blower and evacuation
Drive motor with rotational speed in both directions
Large stainless steel juice tray with connection thread, DN 50
Juice guide sheets, movable and removable
Stainless steel juice tray with connection thread 50mm
Membrane composed of food grade materials, heat tolerant
up to 70°C (158° F)
New fully automatic digital control with 4.3" touch-screen with 12 individually selectable pressing programs (80 pressure steps)
Emergency control manual override
4 movable wheels, 2 with brakes
EP2 65 Specs
Drum press Capacity: 6,020L
Whole bunch filling amount:
4,800kg
Destemmed grapes filling amount:
12,600kg
Fermenter size filling amount:
19,000kg
Juice tray volume:
1500L