INSTALLATION
Yarra Valley Winery
Delivery and installation to a Yarra Valley winery of the Europress EP1 – 65, with hopper for the double doors.

Europress by Scharfenberger. Known for its reliability, build quality and simplicity of operation and cleaning, Europress is the press winemakers turn to.
The REQUIREMENT
Our client was looking for a reliable, easy to use press. The Europress represented this, with the advantage of super easy cleaning.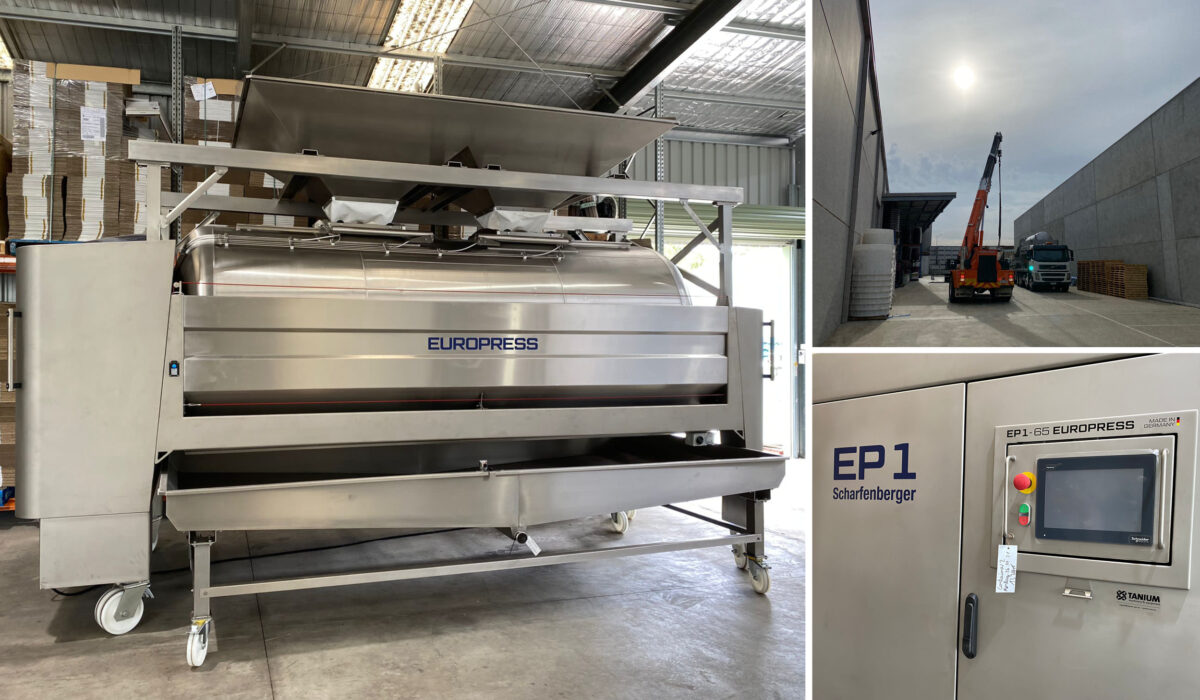 features on the EP1-65
In an open press system, one side of the press drum has very narrow conical slots. The shape and arrangement of these slots guarantees the highest juice quality and prevents the slots from clogging up. It allows for gentle pressing with a short cycle due to the large draining surface area.
Standard Features:
All stainless steel design including frame
Half-side perforated drum with conical slots
Large press drum opening with easy-sliding door
Polished press drum for easy cleaning
Internal compressed air supply with high-performance compressor
High volume vacuum pump with double function: pre-blower and evacuation
Drive motor with rotational speed in both directions
Large stainless steel juice tray with connection thread DN 50
Juice guide sheets, movable and removable options
Membrane composed of food grade materials, heat tolerant up to 70C (158F)
Special membrane fastening system – for 'perfect fit' membrane and pomace breakup
Special pomace emptying bars under the membrane – for faster emptying cycles
New large 10" touch screen monitor with intuitive menu navigation
Fully automatic digital control system with 24 individually selectable pressing programs
Manual setting of the program and automatic recording/saving feature
Emergency control manual override
Pressure build-up
Pull vacuum
Door open – close (if pneumatic)
Turn left, turn right
Lateral side panel of the press are on hinges and can be lowered (up to 52 hl)
Silent mufflers
4 movable wheels, 2 with brakes)programming and safety skills.
The SPECS
Whole bunch Filling amount
3,250kg
Destemmed Grapes Filling Amount
13,000kg
Fermenter Size Filling Amount
19,500kg
Juice Tray Volume
1,500L